Dentures affect how you eat, speak, and even socialize with others, so it's important to take the time to choose them wisely.
Dr. Jay Measells in Vicksburg, MS, takes a personal approach in helping patients select dentures that enhance their daily life.
His practice offers both conventional and implant-supported dentures, including All-on-4® dentures...
Smile, Eat, and Speak with Confidence Again
Have failing and missing teeth left you on the sidelines? Or are you frustrated with traditional dentures and looking to upgrade to implant-supported dentures that will never slip or embarrass you?
Dr. Jay Measells in Vicksburg, MS, can help you weigh your options so you can find dentures that will enrich your life and fit your budget. Dr. Measells uses the latest in dental materials and technology to create dentures that look like natural teeth and fit comfortably in your mouth.
What Type of Denture Are You Looking For?
Our premium dentures are made of high-quality dental materials that let you feel confident when talking and sharing meals with friends. Among your choices: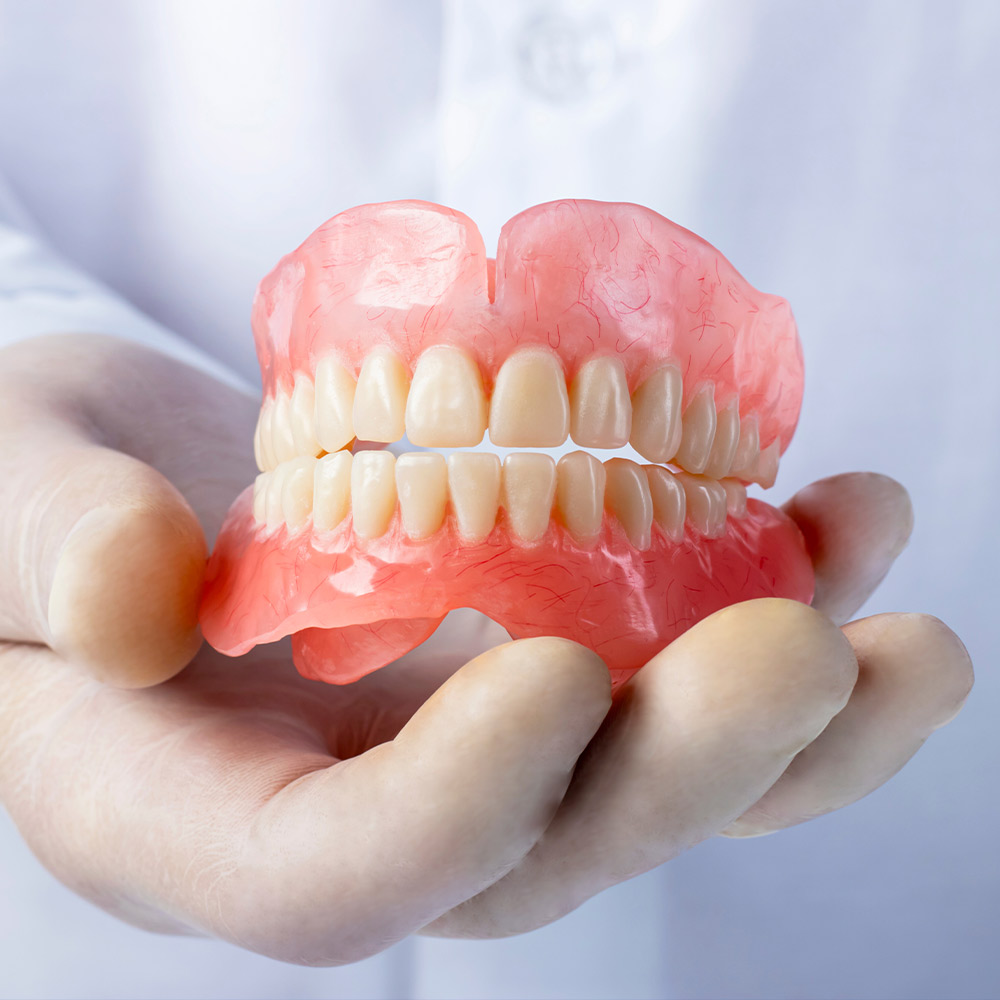 Traditional Dentures
Traditional full dentures are the fast, affordable solution to missing teeth. They simply rest on your gums and are held in place by natural suction and, if needed, adhesives. Dr. Measells takes care to design replacement teeth and a gum base that looks natural, so you can feel confident when you smile.
Implant-Supported Dentures
Implant-supported dentures are held in place by small posts that are inserted into the jawbone. These are fixed dentures that stay in your mouth and are cared for like you would natural teeth with regular brushing and flossing. They will never slip and have the added benefit of encouraging bone growth that keeps your jawbone strong and healthy.
Partial Dentures
Do you still have some natural teeth, but also have gaps throughout your mouth? Our dentist may recommend a partial denture that he can customize to replace teeth just where you are missing them, tooth by tooth. If you are worried about partial dentures shifting out of place, you can consider receiving dental implants to hold them in place. Our dentist can also use implants to replace individual teeth or support a dental bridge.
Quality Starts at the Beginning
Before designing your dentures, Dr. Measells takes a detailed impression of your mouth. By taking extra care with this important step, our dentist is able to create a denture that fits securely in your mouth and harmonizes with your unique features.
Our premium dentures are made of high-quality dental materials that let you feel confident when talking and sharing meals with friends.
Traditional full dentures start at $1,800 at our Vicksburg, MS, practice. However, additional dental procedures, such as tooth extraction or dental implants, will increase the cost. Most insurance plans will contribute to the cost of dentures and preparatory work, but dental implants are not covered by basic insurance.We can help make dentures more affordable through flexible CareCredit® financing that lets people pay for their dental work over the course of several months.
Need Help Choosing
the Right Dentures?
Modern dentistry offers a world of choices when it comes to restoring missing teeth, but many patients come to us confused about which is the right solution for them. They want to know if they qualify for dental implants, or whether they should switch from partial dentures to full dentures. They are also unsure about the future impact of their choices.
Dr. Measells in Vicksburg has been helping patients with a variety of dental needs for more than a decade. He is known for providing honest and straightforward advice. He will sit down with you to understand your needs and then guide you through the pros and cons of all your options so you feel confident in your final selection.
Take the first step and learn which denture options are right for you by scheduling a consultation with the dentist. You can request an appointment online or call us in Vicksburg, MS:
Dr. Jay Measells takes a personal approach in helping patients select dentures that enhance their daily life.
Have You Been Told You Don't Qualify for Traditional Implants?
Ask About All-on-4 Implants
After tooth loss, the jaw will begin to shrink and change shape. Unfortunately, many people learn after years of missing teeth that they would either need a bone graft in order to receive dental implants, or that they would have to settle for traditional restorations.
Dr. Measells may have a solution for you. His All-on-4 method uses strategically placed dental implants that can derive adequate support from a jaw that has experienced some bone atrophy. So instead of having to undergo a bone graft and wait months before receiving implants, All-on-4 can make it possible to receive implants right away. Another unique advantage of this option is that the implants can usually support a denture immediately after they have been placed. During a consultation, Dr. Measells can determine if this option is right for you.
Are You Missing Teeth?
You Are Not Alone
We Pay Attention to Detail
Dr. Measells works with a trusted local lab that takes the extra step of hand-finishing restorations, ensuring a beautiful, comfortable denture.
Which Is Better?
Traditional or Implant-Supported Dentures?
Compared to implant-supported dentures, traditional dentures have several shortcomings:
Traditional Dentures Accelerate Bone Loss
Dental implants act like tooth roots and stimulate the jaw, encouraging bone growth. In contrast, traditional dentures simply rest on the gums and accelerate bone loss. This leads to facial collapse. Wrinkles form around your mouth, skin sags, and your chin juts out, making you look older.
Traditional Dentures Have Minimal Chewing Power
The chewing power of traditional dentures can be as low as 10%, forcing you to change your diet. Implant-supported dentures provide much more force, ranging from 55% to 90% of what natural teeth provide, allowing you to more thoroughly chew your food and eat a wider variety of foods.
Traditional Dentures Need Constant Readjustment
Because your jaw continues to shrink with traditional dentures, your dentures will continuously lose their fit. They will then start to slip and rub the gums, causing painful sores. To adjust to your jaw's changing shape, your dentures will need to be relined or replaced repeatedly.